Legacies – the New Meetings Business Driver
We all have our eyes on what the meetings world will look like post-COVID, and we know for a while we'll have "vaccine passports." A more lasting result of COVID will be the proliferation of hybrid events that are producing and distributing multi-channel content. But, in my view there are four key transformative trends that are emerging that have been driven by the pandemic. All four relate directly to the growing focus on meeting legacy:
Sustainability and UN Sustainable Development Goals (UN SDGs)
A focus on attracting meetings that are strategically important to a community
Government engagement in the business of attracting and hosting meetings
Local community support and engagement in the convention industry
In a way, meeting legacy is both a means and an end. That's because being strategic and visionary about meeting legacies can create a "confluence of interest" between meeting industries, local host organisations, governments and broader communities.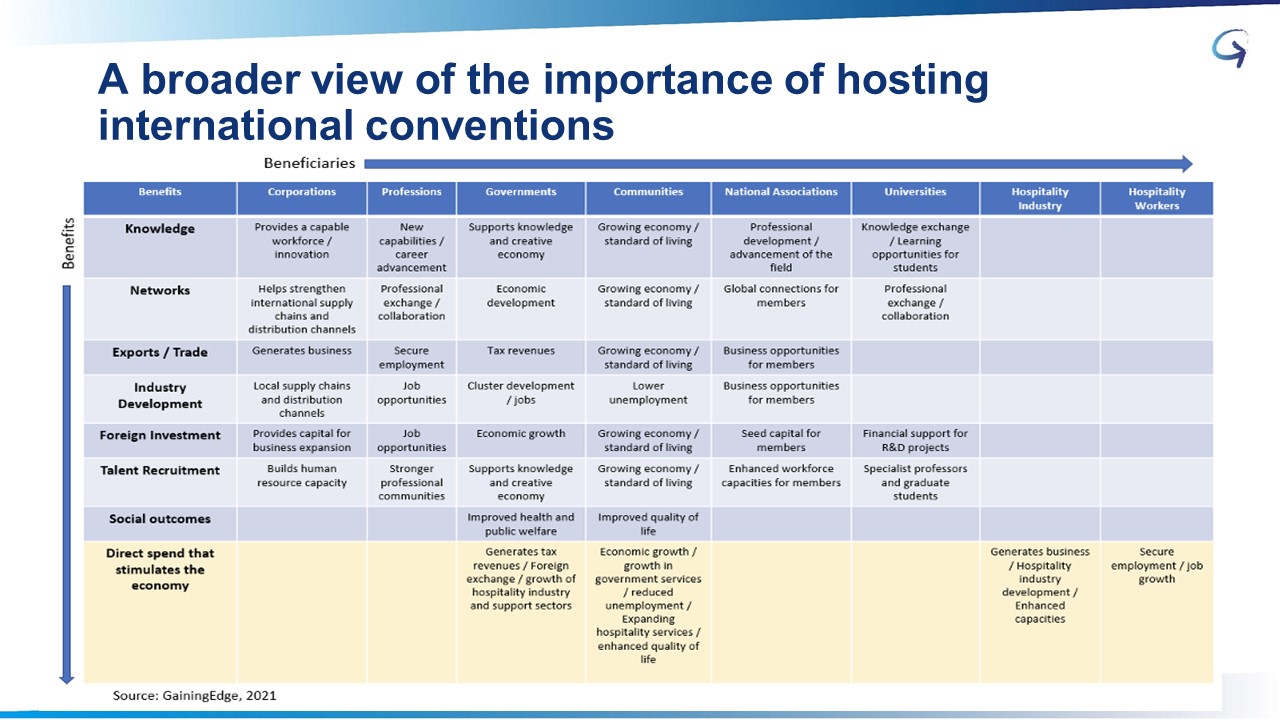 The matrix above offers a quick visual "benefits map" of the types of effects generated by hosting conventions. It shows the range of beneficiaries which include governments and various parts of the local community. It also shows how each of them is positively affected by the "beyond tourism" benefits of hosting meetings. The yellow part at the bottom is our industry's traditional value proposition, which was always about bringing in visitors so that their spending could help stimulate our economies. As the matrix shows, the benefits of hosting meetings run much broader and deeper. And those benefits directly relate to various types of legacies that meetings can provide.
In projects with MeetDenmark and BestCities, GainingEdge has done a lot of work exploring what we term the "strategic pathway" to legacy. We have developed a model which is essentially the reverse of how legacy is approached by most meetings. Most meetings focus on organising the meeting itself without really thinking a lot about legacy. Then people do a retroactive look at what outcomes the meeting may have generated. Most are confusing meeting outcomes with meeting legacies, and most aren't actually looking at true meeting legacies at all. Here is a simple way to think about the difference between meeting outcomes and meeting legacies. If a meeting helps to achieve a governmental policy change, that's a meeting outcome. The legacy is how that policy change actually achieves measurable social and economic benefits into the future.
A more strategic approach is to begin with a creative process of establishing a "legacy vision." What legacies could be generated from hosting a given meeting? Of course, to do this effectively would require engaging not just the local host organisation, but also interested local stakeholders including businesses, government and the broader community.
The next step is to decide what meeting outcomes would be required to drive the accomplishment of the legacy goals. And, once those necessary outcomes are established to program specific meeting activities that will help to generate those outcomes. This is actually a huge value-adding process, because a destination is then able to present a stronger bid that includes suggested program elements and legacy outcomes. That creates a more compelling case for the destination, differentiating it in a powerful way with the people deciding where to take the convention.
This strategic legacy approach also ticks all four of the boxes above. All event legacies relate to UN SDGs. Focusing on legacy potential adds a strategic dimension to why the event is important to the community. It provides a platform for meaningful engagement between convention bureaus, local hosts, governments and the local community. Best of all, it means that the legacies of hosting meetings will become stronger and more measurable, which over time will help to build momentum and broad support for growing a destination's meetings industry.
Here's a question that may help you to crystallise how meeting legacy is the business driver of the future. Imagine that your community is seeking to develop a stronger renewable energy sector. The government wants that, the local renewables industry wants that and ultimately the whole community benefits from that. So, which of the following business cases would be more powerful in both motivating a local host and galvanising local support for a convention bid?
Business case 1: "If we host this meeting on photovoltaics, leaders from that industry from all over the world will come here and share their know-how and also see what we are doing in that science. Leading corporations and investors will come too. It's our chance to tap into a global network, form relationships, partner in innovation, secure venture capital and attract new talent. Hosting this meeting is a strategic way to stimulate our local photovoltaics industry which will help us to strengthen our renewable energy cluster."
Business case 2: "If we host this meeting on photovoltaics, some international delegates will come here for a few days and spend some money."
That's a rhetorical question, of course. Legacy is the rallying point, the true value proposition and the ultimate community benefit. It is a powerful means as well as an end.