Source: The Iceberg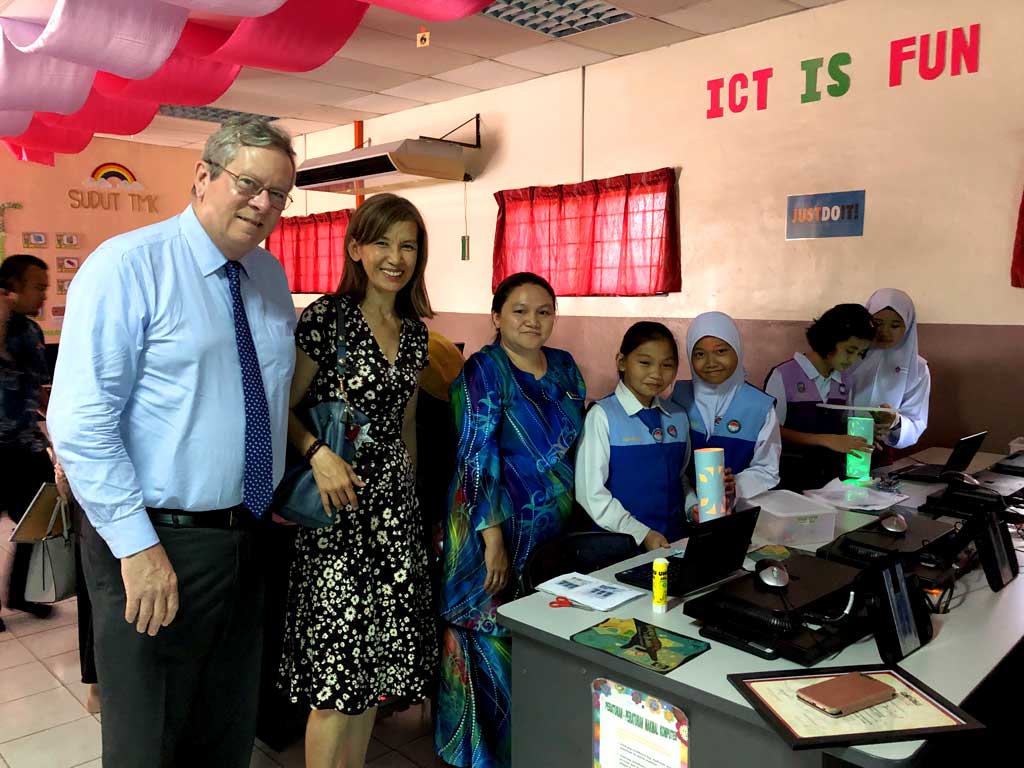 School computer labs across rural Sarawak, Malaysia, will be benefitting after convention organisers and their delegates complete surveys from the Sarawak Convention Bureau. Sarawak CB will be making a donation for each returned form to the Chumbaka Junior Innovate Fund.
Many of the world's corporate citizens and organisations incorporate an element of Corporate Social Responsibility (CSR) into their event programmes as their giving-back to society. Besides building a positive business reputation, better brand recognition (and increased sales), such programmes also help enhance their team members' loyalty while cementing interpersonal bonds.
In my last story, I shared how two organisations – the International Congress and Convention Association (ICCA) and the Tourism Promotion Board Philippines – used meetings and conventions as their conduit to CSR. I was recently delighted to be part of similar efforts closer to home.
The Sarawak Convention Bureau (Sarawak CB, also known as Business Events Sarawak) has hit on an effective and meaningful way to build CSR into ten national and international conventions that will take place in the Malaysian state this year. As part of a research project which covers these ten conventions, the participants, local host committees and also the HQ organisations (where applicable) will be surveyed.
For every completed questionnaire, Sarawak CB will donate $1.00 to the Chumbaka Junior Innovate Fund. This Fund is a home-grown effort targeted at rural schools in Sarawak with the goal of introducing these students to the world of digital technology. It is hoped that by the end of the campaign, enough funds would have been raised to purchase some 70 digital learning kits for these schools.
The Chairman of Sarawak CB, Tan Sri Dato Sri Dr Muhammad Leo Toyad Abdullah said: "We want to emphasize the importance of business events as the driver that accelerates change in Sarawak. Our latest initiative will power the children of today, for tomorrow."
Echoing his sentiments, Sarawak's Minister of Education, Science and Technological Research Dato Sri Michael Manyin Jawong, who was also present at the Launch of the Chumbaka Innovate Fund in a school just outside Kuching, reiterated that his Ministry will continue to actively pursue the impacts from this legacy so that Sarawak can be a role model leader in education and research. The ten selected conventions for this CSR project are 8th International Conference on Bioprocessing; Conference on Inclusive Early Childhood Education; 1st World Chinese Medicine Forum; 24th International Kodaly International Symposium; 3rd MSHA International Spinal Health Congress; 6th Movement, Health and Exercise Conference and 12th International Sports Science Conference; Congress of the Pacific Association of Quantity Surveyors; IEEE Nanoelectronics Conference; 1st International Conference on Education in the Digital Ecosystem; and the 27th Asian-Pacific Weed Science Society Conference.
Sarawak CB is no stranger to investing time and effort on legacy outcomes – when the bureau played host to the 2016 ICCA Annual Congress in Kuching, a CSR project linked to the state's endangered primate – the orangutan or Man of the Forest – kicked off with their pre-event marketing. Additionally, when ICCA Congress participants converged in Kuching, they were encouraged to bring one or two English language books with them for the Book Share Programme, an initiative of the Librarians Association of Malaysia – Sarawak Chapter. These books, donated by ICCA members from around the world, eventually made their way to libraries and community halls in rural Sarawak.
It is indeed heartening that the state has put such focus on its future generation. Be it mastering the English language or developing life skills in this age of digital technology, the government of Sarawak – through Sarawak CB – has skillfully used meetings and conventions to leave a legacy for its local communities. As they say in the Malay language in Sarawak, "terima kasih" – "thank you" – to all convention participants and host organisations who are helping in this endeavor.